Construction Services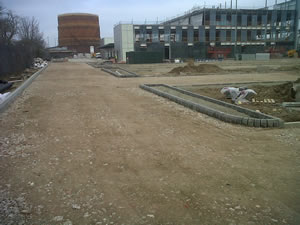 Combining vast experience and a dedication to continually achieve outstanding levels of customer service with high quality equipment and a highly skilled workforce, Byrne & King offer a complete range of construction services at very reasonable prices.
No matter whether your project is small, medium or large; we will be able to provide the solution. Having worked in the industry for over 17 years, we are perfectly placed to provide you with a wide variety of construction services, including earthworks, flooring and drainage.
Our comprehensive range of construction and building services includes:
While the heart of our business revolves around the above construction services, if you need some work carried out that requires a professional and highly skilled builder, do not hesitate to contact us. Our builders and construction workers are second to none so we may be able to help out.
Working alongside building companies, housing developers and residential and commercial property owners, we provide an effective solution to your building and groundwork needs and whether it is project management, main contract work or just a few reliable and professional builders that you need, we will be able to provide a first class service every time.
Alongside our expert construction services, we also provide domestic and commercial customers with our plant hire service. This enables construction work to be carried out quickly and effectively and our machinery is available with or without our experienced operators. For more information please see our Plant Hire page.
Based just outside Swindon, we provide our construction services to domestic and commercial clients across the Home Counties and the South of England, including Swindon, Bristol, Gloucester, Cambridge, London, Helston, Barnstaple, Newhaven, Portsmouth, Bognor Regis, Sussex and along the M4 Corridor.
If you would like any more information about our construction services, please do not hesitate to contact one of our helpful and friendly team.