Reinforced Concrete Works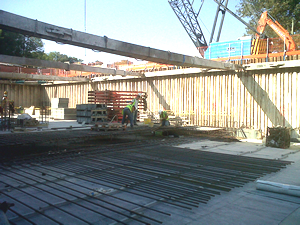 As one of Wiltshire's leading construction and building experts, we specialise in reinforced concrete works as part of a range of construction projects.
Through a focus on quality workmanship and exceptional health and safety, we provide domestic and commercial customers with a wide variety of first class concrete constructions. No matter what the size of project or requirements, we are confident in our experienced and highly skilled team's ability to provide the solution.
Having worked in the construction industry for over 17 years, we can provide considerable expertise in reinforced concrete works. Some of the services we provide include:
Pad foundations
Strip footings
Rafts
Ground beams
Ground floor slabs
Manholes
Access chambers
External roads
Access routes
We are proud to have built up a strong relationship with our suppliers, and most importantly, with our clients. They appreciate our dedication to exceptional customer service, professionalism and high quality results. These strong links enable us to utilise the latest equipment to complete our commercial and domestic concrete work projects, meaning a faster turnaround and an exceptional customer service.
During our 17 years in the industry we have worked with a variety of different customers on a wide range of concrete projects. Indeed, we recently finished a concrete construction project for Help the Heroes at Tedworth House. Involving the installations of reinforced frames and shuttering and concrete floor laying, this project was a vital one and one in which we were honoured to be involved.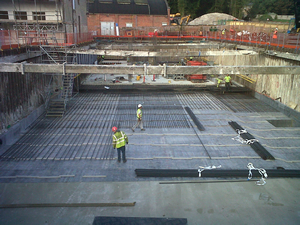 The Ministry of Defence is just one client of ours and these prestigious clients are testimony to the reliability and professionalism of our reinforced concrete services.
Although we are based just outside Swindon, we are happy to work across the Home Counties, the South of England and beyond depending upon contract size. We have worked on projects in Swindon, Bristol, Gloucester, Cambridge, London, Newhaven, Helston, Barnstaple, Portsmouth, Bognor Regis, Sussex and along the M4 Corridor.
If you would like any more information about our range of reinforced concrete services, please do not hesitate to contact one of our helpful and friendly team.